M18 thread type.
Circumferential cutting, in which cutting area is very small, permits boring large holes with low-powered machines.
No need of pilot holes for positioning by using center pin. An inner spring provides easy removal of chips.

For drilling in steel, shape steel, stainless steel, and cast iron up to 35mm (MB350) or 50mm (MB500) in thickness.
Best for drilling work in shipbuilding, bridge building, framework building, and steel structure building.

Cutter size:
MB500: o18mm to 80mm (Max. drilling depth: 50mm)
MB350: o14mm to 36mm (Max. drilling depth: 35mm)
Number of tips:
Cutters of o14mm to 39mm --- 6pcs.
Cutters of o40mm to 64mm --- 8pcs.
Cutters of o65mm to 80mm --- 10pcs.
Tip width:
Cutter of o 14mm --- 3.2mm
Cutter of o 14.5mm --- 3.4mm
Cutter of o 15mm --- 3.7mm
Cutters of o16mm to 80mm --- 3.9mm
Applicable electric drill:
Magnetic drill presses, upright drilling machines, radial drilling machines, lathes, and milling machines.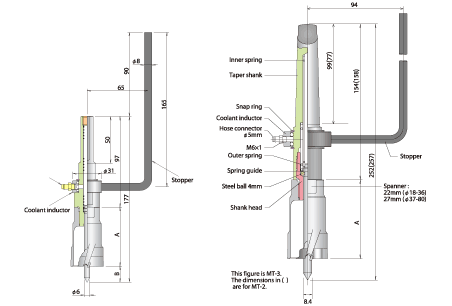 | | | |
| --- | --- | --- |
| Size | A | B |
| MB350 14mm to 25mm | 67mm | 13mm |
| MB350 25.5mm to 36mm | 63mm | 17mm |
| MB500 18mm to 25mm | 82mm | |
| MB500 25.5mm or larger | 78mm | |
◆Click here for the guideline for cutting conditions of Metal borers.