Reduced strain on workers' body leads to less fatigue even after long hours of use.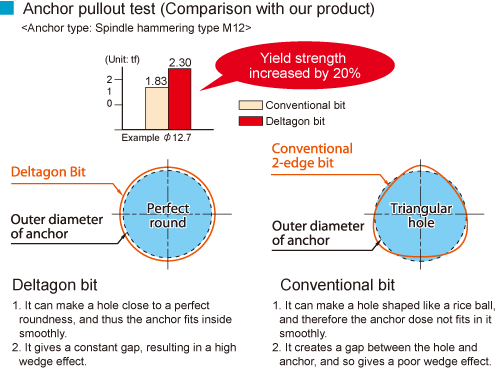 The chisel point at the blade edge of the Deltagon bits has been eliminated, and thus hole starting is easy. (Minimized bit walk during hole starting allows smooth drilling.)


Minimized bit binding with reinforcing bars realizes higher durability than conventional bits.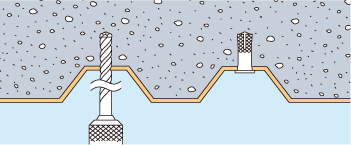 The Deltagon bits can easily cut the deck plate on which concrete was poured.

The Deltagon bits have the advantage that the amount of wear of its outside cylindrical surface is extremely little in comparison with bits with two edge. It is most suitable for drilling pilot holes for anchors.
* This test results are only an example and may differ depending on work materials and an electric drill you use.
Test data: Bit diameter 19.0mm (3/4") (Hex shank bit)
Work materials: Concrete with a compressive strength of 300 kgf/cm2
Drilling length: 100mm (3-7/8")